Reading & Phonics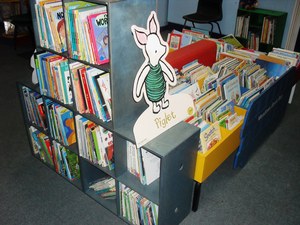 Reading
In order that our children have access to a wide range of genres, we use a broad spectrum of books, which are levelled in line with the National Curriculum. These are then colour coded to enable the children to independently choose their correctly levelled home reading books. However, support is given to children who need additional help in choosing their books.
Within the classroom, children take part in scheduled guided reading lessons, where they are taught the skills of reading. These skills cover a range of strands, including basic word/sound recognition; locating information within a text; deducing what the author means using implied information and the strategies that are used to add interest to texts. Books chosen for these lessons are dependent on ability, age, interests and the particular assessment focus being taught. These books may include fiction, non-fiction, poetry or phonic specific.
We are also lucky enough to have both a Key Stage 1 and a Key Stage 2 library, where children are invited to choose their own books. These may be personal interest choices, or topic specific for research within lessons.
Phonics
At the Meadows we teach through the recommended 'Letters and Sounds' programme (supplemented where appropriate by resources from the Read, Write Inc, scheme). This is a synthetic (hands-on) and systematic approach where the sounds are taught in a specific order. Some sounds (phonemes) are made up of single letter sounds (e.g. s, a, t, p, i, n), while others are made up of more letters (e.g. ch, ar, igh). The children begin their phonics journey in reception with something called 'basic code' – this means they learn one way of spelling each of the letter sounds to help them to read and write. Later on, within Key Stage 1 they will learn the 'alternative code' – different ways of making each of the sounds, (e.g. the 'or' sound can be written as or, au, augh, aw or oor).
The children use a range of resources such as magnetic letters, games, play dough, glitter, flash cards and computer programmes to help them learn. Phonics is taught daily as a discreet subject in short bursts as recommended, but we also bring it into any lesson we are able within Key Stage 1, pointing out the phonemes (the sounds in a word) and the graphemes (how the sounds are written) in order to embed the learning.